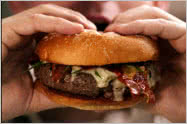 EXPLORE 554 BEST FOODS
ORGANIZED by STATES:


It truly takes the top chef's in the world to build the best tasting foods list so we can all enjoy it!


Tyler Florence's The Best Thing I Ever Ate Compilation of Great Foods!
Explore the Selections & Experience of Professional Chef Tyler
Chef TYLER FLORENCE

Kevin Tyler Florence was born in 1971 and is from Greenville.

The very popular host of popular Food Network shows which include How to Boil Water and Food 911. A graduate from the culinary arts from SC, he has also made appearances on the Oprah Winfrey show as well as Shaq's Big Challenge. In addition, Tyler has published several best-selling books which include Real Kitchen, Family Meal and Eat This Book: Cooking With Global Fresh Flavors. Look out for this rising star!
Bouchon Bistro

Salmon Rillettes

6534 Washington
St Yountville, CA 94599
Charlie Vergo's Rendezvous

BBQ Pulled Pork Sandwich

52 S. Second Street
Memphis, TN 38103
Hog Island Oyster Co.

Kumamoto Oysters

One Ferry Building
San Francisco, CA 93108
Serious Pie

Roasted Chanterelles Truffle Cheese Pizza

316 Virginia St.
Seattle, WA 98121
The Rotunda at Neiman Marcus

Seafood Cobb Salad

Level Four 150 Stockton Street
San Francisco, CA 94108
Bottega Napa Valley

Egg and Pork Belly Confit

6525 Washington St.
Yountville, CA 94599
Buckeye Roadhouse

S'More Pie

15 Shoreline Hwy.
Mill Valley, CA 94941
Penang Garden

Hot and Spicy Crab

728 Washington St.
San Francisco, CA 94108
Magnolias

Pimento Cheese with Flatbread

185 E. Bay Street
Charleston, SC 29401
Pearl's Deluxe Burgers

Phat Burger with Bacon and Cheese

8 East Blithedale Avenue
Mill Valley, CA 94941
BLT Steak

Gruyere Popovers

106 East 57th St
New York, NY 10022
Cafe Fanny

Organic Granola with Fruit & Straus Organic Yogurt

1603 San Pablo Avenue
Berkeley, CA 94702
Muir Woods Trading Company Cafe

Grilled Cheese & Tomato Soup

One Muir Woods Highway
Mill Valley, CA 94941
The Buena Vista Cafe

Irish Coffee

2765 Hyde Street
San Francisco, CA 94109
Spread

White Chocolate Pretzel Peanut Spread

2879 University Ave.
San Diego, CA 92104
The Lady & Sons

Hoecakes

102 W. Congress St.
Savannah, GA 31401
Marin Joe's

Marin Joe's Special

1585 Casa Buena Dr.
Corte Madera, CA
Schiller's Liquor Bar

Garlic Shrimp

131 Rivington St.
New York, NY 10002
Cafe Habana

Mexican Grilled Corn

17 Prince St.
New York, NY 10012
Fish

The Crab Roll

350 Harbor Dr.
Sausalito, CA 94965
Barbuto

Pollo al Forno

775 Washington St.
New York, NY 10014
Cafe Habana

Mexican Grilled Corn

17 Prince St.
New York, NY 10012
Spencer On The Go

Escargot Puff Lollipop

Roaming Food Truck
San Francisco, CA 94103
Tadich Grill

Sand Dab Fish Fillet

240 California St.
San Francisco, CA 94111