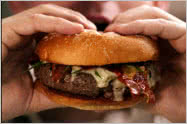 EXPLORE 554 BEST FOODS
ORGANIZED by STATES:


It truly takes the top chef's in the world to build the best tasting foods list so we can all enjoy it!


Ted Allen's The Best Thing I Ever Ate Compilation of Great Foods!
Explore the Selections & Experience of Professional Chef Ted
Chef TED ALLEN

Edward R. Allen was born in 1965 and is from Columbus, OH.

Having studied at both Purdue and New York University, Ted is far more than a popular chef and personality. First made famous as one of the Fab Five as the trusted food and wine connoisseur, he has continued his presence as the host of the Food Networks Chopped for which he was awarded the amazing James Beard Award.
The Red Cat

Tempura Bacon

227 10th Ave
New York, NY 10011
North Main BBQ

BBQ Beef Brisket

406 North Main
Euless, TX 76039
Dynamo Donut & Coffee

Bacon Apple Maple Donuts

2760 24th Street
San Francisco, CA 94110
Graziella's Italian Restaurant

Arugula & Parmesan Pizza

232 Vanderbilt Ave. Clinton Hill
Brooklyn, NY 11205
No. 7 Restaurant

Half Chicken

7 Greene Avenue, Fort Greene
Brooklyn, NY 11238
McClure's

Pickles

330 E. Maple Rd. Suite Q
Troy, MI 48083
Le Bernardin

Black Bass

155 West 51st St.
New York, NY 10019
Butter Lane Cupcakes

Banana Cupcakes

123 East 7th St.
New York, NY 10009
Devi Restaurant

Mirchi Ka Salan

8 East 18th St.
New York, NY 10003
Rathbun's Restaurant

Australian Lamb Chops

112 Krog Street NE, Ste.R
Atlanta, GA 30307
Alinea

Hot Potato / Cold Potato

1723 N Halsted St
Chicago, IL 60614
Veselka

Ukrainian Borscht

144 2nd Avenue
New York, NY 10003
Table Fifty-Two

Fried Chicken

52 W. Elm St.
Chicago, IL 60610
Locanda Vini & Olli

Duck Breast with Fruit Compote

129 Gates Avenue
Brooklyn, NY 11238
Daniel NYC

Pressed Duck

60 E 65th St
New York, NY 10065
Clover Club

Gin Blossom

210 Smith St
Brooklyn, NY 11201
The Wiener's Circle

Char Dog

2622 N. Clark St.
Chicago, IL 60614
Swedish Bakery

Green Frog Marzipan Cakes

5348 N. Clark St.
Chicago, IL 60640
Manny's Cafeteria and Delicatessen

Kugel

1141 S. Jefferson St.
Chicago, IL 60607
Cake Man Raven

Southern Red Velvet Cake

708 Fulton St.
Brooklyn, NY 11217
WD~50

Eggs Benedict

50 Clinton St.
New York, NY 10002
Katzinger's Delicatessen

Pastrami Reuben and Chicken Noodle Soup

475 South Third St.
Columbus, OH 43215-5701
Vito's Deli

Smoked Mutz Hero

806 Washington St.
Hoboken, NJ 07030
Lady M Confections

Mille Crepes Cake

41 East 78th St.
New York, NY 10075
Churrascaria Novo Mundo

Barbecue chicken

98 County St, Suite C
New Bedford, MA 02744