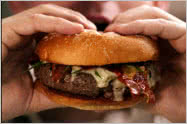 EXPLORE 554 BEST FOODS
ORGANIZED by STATES:


It truly takes the top chef's in the world to build the best tasting foods list so we can all enjoy it!


Michael Symon's The Best Thing I Ever Ate Compilation of Great Foods!
Explore the Selections & Experience of Professional Chef Michael
Chef MICHAEL SYMON

Michael was born in 1969 and is originally from the city of Cleveland.

His highest achievement is perhaps his James Beard Foundation Award, a true accomplishment for any chef. He has become a regular on the Food Network as a host, judge and contestant. He has also written from magazine and authored books that do quite well. Some of his restaurants the he runs are Lolita and Michael Symon's Roast. Be sure to pick up The Soul of a Chef: The Journey Toward Perfection.
The Publican

Spicy Pork Rinds

837 W. Fulton Market
Chicago, IL 60607
Daisy May's

BBQ Beef Ribs

623 11th Ave.
New York, NY 10036
Stand4

Toasted Marshmallow Shake

24 E 12th Street
New York, NY 10003
Big Al's Diner

Corned Beef Hash

12600 Larchmere Blvd
Cleveland, OH 44120
Seti's

Polish Boy

3500 Woodland Ave.
Cleveland, OH 44115
Czuchraj Meats

Beef Jerky

West Side Market 1979 W. 25th St. #B10/11
Cleveland, OH 44113
Resto NYC

Large Format Feast

111 East 29th St.
New York, NY 10016
The Greenhouse Tavern

Gravy Frites

2038 East 4th St.
Cleveland, OH 44115
Lopez SouthWestern Food Kitchen

Sage and Bleu Cheese Guacamole

2196 Lee Road
Cleveland, OH 44118
Sokolowski's

Pierogies

1201 University Road
Cleveland, OH 44113
Michael's Genuine Food & Drink

Tangerine Popsicle

130 NE 40th Street
Miami, FL 33137
Vetri Ristorante

Chef's Pasta Tasting Menu

1312 Spruce St.
Philadelphia, PA 19107
Velvet Tango Room

India Lime Fizz

2095 Columbus Road
Cleveland, OH 44113
Lucky's Cafe

Biscuits and Gravy

777 Starkweather Ave.
Cleveland, OH 44113
Cha Cha Chicken

Coconut Fried Chicken

1906 Ocean Avenue
Santa Monica, CA 90405-1044
17th Street Bar & Grill

Baby Back Ribs

2700 17th Street
Marion, IL 62959
Mesa Grill

Tiger Shrimp Roasted Garlic Corn Tamales

3570 Las Vegas Blvd S
Las Vegas, Nevada
Ray's Place

Mo-Fo Burger

135 Franklin Ave.
Kent, OH 44240-3517
Bucci's

Cavatelli

1 Berea Commons
Berea, OH 44017
Happy Dog

Hot Dog

5801 Detroit Ave.
Cleveland, OH 44102
Zingerman's

Bacon of the Month Club

422 Detroit St.
Ann Arbor, MI 48104