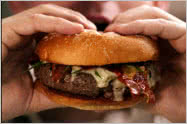 554
BEST FOODS by STATE
Michael Psilakis's The Best Thing I Ever Ate Compilation of Great Foods!

It truly takes the top chef's in the world to build the best tasting foods list so we can all enjoy it!
Explore the Selections & Experience of Professional Chef Michael
Chef MICHAEL PSILAKIS

Michael has a rich Greek family history.

Most noted for his Food & Wine's Best New Chef award that he achieve in a very short amount of time, Michael has been nominated for several other high scale awards. In addition, he's also won "Chef of the Year" and was awarded a Michelin star! Perhaps one of the best chefs of our generation.
White Manna

Sliders

358 River St.
Hackensack, NJ 07601
I Trulli Enoteca e Ristorante

Orecchiette

122 E 27th St.
New York, NY 10016
Blue Ribbon at Brooklyn Bowl

Fried Chicken

61 Wythe Ave.
Brooklyn, NY 11211
Strip House

Strip House Chocolate Cake

313 East 12th St.
New York, NY 10003
The Modern

Liverwurst

9 W. 53rd St.
New York, NY 10019
Young's Lobster Pound

Shore Dinner

4 Mitchell Ave.
Belfast, ME 04915
Peter Luger Steakhouse

Sizzling Bacon

178 Broadway
Brooklyn, NY 11211
Don Pepe's Vesuvio

Linguini with Clams

135-58 Lefferts Blvd
Ozone Park, NY 11420
Russ & Daughters

Gaspe Nove

179 East Houston Street
New York, NY 10002
Brooklyn Ice Cream Factory

Butter Pecan Ice Cream

1 Water Street , Old Fulton & Water Street
Brooklyn, NY 11201
Gotham Bar and Grill

Four Course Thanksgiving Dinner

12 East 12th St.
New York, NY 10003
Katz's Deli

Knoblewurst

205 E Houston St.
New York, NY 10002
Rye

Meatloaf Sandwich

247 S. 1st St.
Brooklyn, NY 11211
Dovetail

Chicken a la Plancha

103 W. 77th St.
New York, NY 10024