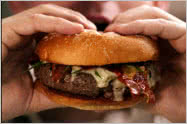 EXPLORE 554 BEST FOODS
ORGANIZED by STATES:


It truly takes the top chef's in the world to build the best tasting foods list so we can all enjoy it!


Guy Fieri's The Best Thing I Ever Ate Compilation of Great Foods!
Explore the Selections & Experience of Professional Chef Aaron
Chef GUY FIERI

Guy was born in 1968 in the state of Ohio.

Probably most famous for his recurring role as host of the widely popular Diners, Drive-ins, and Dives television show which continues to air to this day. He's truly made his mark as a game show host, food show host, author, critic and much more. His un-mistakable image has really made him the face of the food network. He also owns several restaurants in CA.
Benny's Seafood Restaurant

Mofongo

2500 SW 107th Ave.
Miami, FL 33165
Hodad's

Bacon Burger

5012 Newport Ave.
Ocean Beach, CA 92107
Johnny Garlic's

Pizza

8988 Brooks Rd. S.
Windsor, CA 95492
Matt's Big Breakfast

The Chop & Chick

825 N. 1st St.
Phoenix, AZ 85004
Chaps Pit Beef

Chaps Submarine

5801 Pulaski Highway
Baltimore, MD 21205
Uncle Lou's

Fried Chicken

3633 Millbranch Rd.
Memphis, TN 38116
Alcenia's

Sweet Potato Cobbler

317 N Main St.
Memphis, TN 38103
Tom's Bar-B-Q

Pork Rib Tips

4087 New Getwell Rd.
Memphis, TN 38118
Duarte's Tavern

Crab Cioppino

202 Stage Rd.
Pescadero, CA 94060
Olneyville N.Y. System

Hot Wieners

20 Plainfield Street
Providence, RI 02909
Tasty Hand-Pulled Noodle

Hand Pulled Noodles with Beef

1 Doyers Street
New York, NY 10013
Cricklewood

French Onion Soup

4618 Old Redwood Hwy
Santa Rosa, CA 95401
Pok Pok

Ike's Vietnamese Fish Sauce Wings

3226 SE Dvision St.
Portland, OR 97202
Bar-B-Q King

Bar-B-Q Chicken

2900 Wilkinson Blvd.
Charlotte, NC 28208
Alpine Steakhouse

Turducken

4520 S. Tamiami Trail
Sarasota, FL 34231