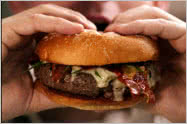 EXPLORE 554 BEST FOODS
ORGANIZED by STATES:


It truly takes the top chef's in the world to build the best tasting foods list so we can all enjoy it!


Giada De Laurentiis's The Best Thing I Ever Ate Compilation of Great Foods!
Explore the Selections & Experience of Professional Chef Giada
Chef GIADA DE LAURENTIIS

Giada was born in beautiful Rome Italy in 1970.

The perfect combination of her Italian roots with the exquisite culinary schooling from France, she really does have an amazing skill set to work with preparing her dishes. A popular host, television personality and chef, she is as well-rounded as she is beautiful inside and out. One of her recent accomplishments not shared by others is her Culinary Hall of Fame status!
Riva - Fraiche Restaurant

Chocolate Hazelnut Purse

312 Wilshire Blvd.
Santa Monica, CA 90401
Jacques Torres

Wicked Spicy Hot Chocolate

350 Hudson & King Street
New York, NY 10014
Emporio Rulli-Larkspur

Pannetone Milanese

464 Magnolia Ave
Larkspur, CA 94939
Umami Burger

Umami Burger

4655 Hollywood Blvd.
Hollywood, CA 90027
Angelini Osteria

Lasagna Verde

7313 Beverly Blvd.
Los Angeles, CA 90036
Union Square Cafe

Bar Nuts

21 East 16th St.
New York, NY 10003
WoodSpoon

Chicken Pot Pie

107 West 9th St.
Los Angeles, CA 90015
Snake River Grill

SRG Eskimo Bars

84 East Broadway
Jackson Hole, WY 83001
Angelini Osteria

Grilled Branzino with Mixed Baby Greens

7313 Beverly Blvd.
Los Angeles, CA 90036
Mo-Chica

Aji De Gallina

3655 S. Grand Ave.
Los Angeles, CA 90007
Wazuzu

Drunken Noodles

3121 Las Vegas Blvd. South
Las Vegas, NV 89109
Sweet Surrender

Matterhorn Cake

6439 Ming Ave.
Bakersfield, CA 93309
Minibar at Cafe Atlantico

Insalata Caprese Injection

405 8th St. NW
Washington, DC 20004
La Casita Mexicana

Churros Con Cajeta

4030 E. Gage Ave.
Bell, CA 90201
Citronelle

Lobster Begula Caviar

3000 M Street, NW
Washington, DC 20007