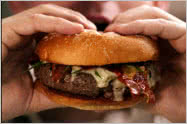 EXPLORE 554 BEST FOODS
ORGANIZED by STATES:


It truly takes the top chef's in the world to build the best tasting foods list so we can all enjoy it!


Duff Goldman's The Best Thing I Ever Ate Compilation of Great Foods!
Explore the Selections & Experience of Professional Chef Duff
Chef DUFF GOLDMAN

Jeffrey Adam Goldman was born in 1974 in Detroit Michigan.

For anyone that watched food television or is a fan of sweets and cakes, Duff is the biggest name in the game with his world-famous Ace of Cake empire which is based on his Charm City Cakes shop. On several tv shows and talkshow, he really is a fun and outgoing character that we have all come to love. Currently in Baltimore, he's also part of a band called soihadto.
Joss Cafe Sushi Bar

Fried Shrimp Heads

195 Main Street
Annapolis, MD 21401
Animal Restaurant

Bacon Chocolate Crunch Bar

435 N. Fairfax Ave.
Los Angeles, CA 90036
Woodberry Kitchen

CMP

2010 Clipper Park Road, No. 126
Baltimore, MD 21211
Gino's East of Chicago

Sausage Patty Style Pizza

162 E. Superior St.
Chicago, IL 60611
Golden West Cafe

Huevos Montelenos

1105 W 36 St.
Baltimore, MD 21211
Crustacean

Garlic Noodles

9646 Little Santa Monica Blvd
Beverly Hills, CA 90210
Peking Gourmet Inn

Peking Duck

6029 Leesburg Pike Falls
Church, VA 22041
Marshland Restaurants

Stuffed Quahog

109 Route 6A
Sandwich, MA 02563
Enoteca Sardinia Ristorante

Lamb Shank

1801 Purdy Ave.
Miami Beach, FL 33139
Loteria Grill

Chicken Mole

6627 Hollywood Blvd.
Los Angeles, CA 90028
Akasha Restaurant

Onion Rings

9543 Culver Blvd.
Culver City, CA 90232
Flo's Clam Shack

Fried Clam Roll

4 Wave Ave.
Middletown, RI 02842
Dangerously Delicious Pies

Baltimore Bomb Pie

2839 O'Donnell St.
Baltimore, MD 21224
PJ's Family Restaurant

Lobster Roll

2616 State Hwy, Rte. 6
Wellfleet, MA 02667
Lonesome Dove Western Bistro

Tomahawk Chop

2406 North Main Street
Fort Worth, TX 76164
Morimoto

Toro Tartare

88 10th Ave.
New York, NY 10011
The Farm Cafe

Farmhouse Veggie Burger

10 SE 7th Ave.
Portland, OR 97214
Charleston Restaurant

Burgundy Snails

1000 Lancaster Street
Baltimore, MD 21202
Real Chili Restaurant

Chili

419 E Wells Street
Milwaukee, WI 53202
Topolobampo

Duck in Red Peanut Mole Sauce

445 North Clark Street
Chicago, IL 60654
Church & State

Charcuterie de la Maison

1850 Industrial St., Ste. 100
Los Angeles, CA 90021
The Franklin Fountain Ice Cream

Egyptian Egg Soda

116 Market Street
Philadelphia, PA 19106
Todd English - Figs

Boston Bibb & Mache Salad

67 Main St.
Charlestown, MA 02129
Edmart Deli

Edmart Brisket

1427 Reisterstown Rd.
Pikesville, MD 21208
Dorothy's

Chicken Tamales

123 Frontage Rd.
Fairplay, CO 80440
Cafe Zen

Crispy Beef

438 E Belvedere Ave
Baltimore, MD 21212
Fenton's Creamery

Banana Special

4226 Piedmont Avenue
Oakland, CA 94611
Zankou Chicken

Half Chicken with Garlic Sauce

1716 S. Sepulveda Blvd.
Los Angeles, CA 90025
Pierpoint Restaurant

Crab Cakes

1822 Aliceanna St
Baltimore, MD 21231
Roscoe's House of Chicken 'n Waffles

Fried Chicken and Waffles

1514 N. Gower St.
Los Angeles, CA 90028
Kuba Kuba

Tres Leche Cake

1601 Park Ave.
Richmond, VA 23220
Jacques Torres Ice Cream Shop

Pistachio Ice Cream Sandwich

62 Water St.
Brooklyn, NY 11201
Pie Town Cafe

New Mexico Apple Pie

Hwy 60 Mile Marker 56
Pie Town, NM 87827
Ike's Place

The Backstabber Sandwich

3489 16th St.
San Francisco, CA 94114
B & H Dairy

Blueberry Blintzes

127 2nd Ave.
New York, NY 10003
Animal Restaurant

Pig Tails

435 N. Fairfax Ave.
Los Angeles, CA 90036