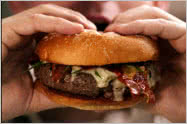 EXPLORE 554 BEST FOODS
ORGANIZED by STATES:


It truly takes the top chef's in the world to build the best tasting foods list so we can all enjoy it!


Cat Cora's The Best Thing I Ever Ate Compilation of Great Foods!
Explore the Selections & Experience of Professional Chef Cat
Chef CAT CORA

Catherine was born in 1968 in the state of Mississippi.

Her combination of Greek and American give her both her stunning beauty along with her amazing culinary flare and flavors. Her popular role of Iron Chef brought her in to the limelight. Coming from a family history of restaurateurs, she had a strong passion for cooking all her life. Now residing in California, she continues to be a judge and contestant on many tv food shows.
Tru Restaurant

Chocolate Bar Dessert

676 N. St. Clair Street
Chicago, IL 60611
Lucky's Steakhouse

New York Strip Steak

1279 Coast Village Road
Montecito, CA 93108
Olives at The W Hotel

Spicy Broccoli

201 Park Ave. S.
New York, NY 10003
Cold Spring Tavern

Bar-B-Q Beef Sandwich

5995 Stagecoach Road
Santa Barbara, CA 93105
D'Angelo Bread

Eggs Rose

25 West Gutierrez Street
Santa Barbara, CA 93101
The Crystal Grill

Lemon Ice Box Pie

423 Carrollton Ave.
Greenwood, MS 38930
The Ranch House

Grilled Diver Scallops

102 Besant Road
Ojai, CA 93023
Beano's Cabin

Spicy Sweet Potato Fries

42 Avondale Ln.
Avon, CO 81620
The Hitching Post II

Burger

406 E. Highway 246
Buellton, CA 93427
Mayflower Cafe

Comeback Sauce

123 W Capitol Street
Jackson, MS 39201
Keifer's Restaurant

Gyro with Feta Cream Sauce

705 Poplar Blvd
Jackson, MS 39202
French Laundry

Oysters & Pearls

6640 Washington Street
Yountville, CA 94599
Susan Feniger's Street

Mandoo Dumplings

724 N. Highland Ave.
Los Angeles, CA 90038
Mandarina

Strawberry Ice Pop

535 Octavia St.
San Francisco, CA 94102
Academe Maine Brasserie & Tavern

Lobster Pot Pie

45 Main Street
Kennebunk, ME 04043