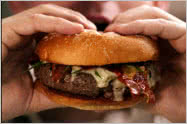 554
BEST FOODS by STATE
Beau MacMillan's The Best Thing I Ever Ate Compilation of Great Foods!

It truly takes the top chef's in the world to build the best tasting foods list so we can all enjoy it!
Explore the Selections & Experience of Professional Chef Beau
Chef BEAU MACMILLAN

Going by the name of BeauMac, he's based out of Plymouth, Massachusetts.

From the young ripe age of sixteen, Beau began his career in this arena and has never looked back. A very established chef in his own right, he's been on plenty of television. Currently the executive chef for The Ranch on Camelback, he's very well known and respected amongst his peers. He's also opened up his very own establishment, elements.
Zinc Bistro

French Onion Soup

15034 N. Scottsdale Rd #140
Scottsdale, AZ 85254
Mother's Restaurant

Bread Pudding

401 Poydras St.
New Orleans, LA 70130
Chosun Galbee

Korean BBQ Beef Short Ribs

3330 West Olympic Boulevard
Los Angeles, CA 90019
Omni Parker House

Boston Cream Pie

60 School Street
Boston, MA 02108
Flip Happy Crepes

Nutella Crepe with Strawberry & Banana

400 Jessie St.
Austin, TX 78704
Queen Creek Olive Mill

Kalamata Sandwich

25062 S. Meridian Road
Queen Creek, AZ 85242
El Chorro Lodge

Sticky Buns

5550 E Lincoln Dr.
Paradise Valley, AZ 85253
Yellowtail

Tempura Alaskan King Crab

3600 Las Vegas Blvd. South
Las Vegas, NV 89109
Over Easy

Waffle Dogs

9375 E. Bell Rd.
Scottsdale, AZ 85260
Mrs. White's Golden Rule Cafe

Golden Brown Southern Fried Chicken

808 E. Jefferson St.
Phoenix, AZ 85034
Grill 'Em All Truck

H-100's Tater Tots

Roaming Food Truck
Los Angeles, CA 90064