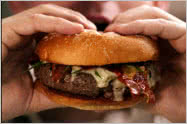 554
BEST FOODS by STATE
Alton Brown's The Best Thing I Ever Ate Compilation of Great Foods!

It truly takes the top chef's in the world to build the best tasting foods list so we can all enjoy it!
Explore the Selections & Experience of Professional Chef Alton
Chef ALTON BROWN

Alton Crawford Brown was born in 1962 in the city of Los Angeles.

One of the most recognizable food personalities on television thanks to his hosting duties on the Iron Chef. But he is also very accomplished as a cook in his own way as he has actually picked up the James Beard Award! Alton has also published several best selling cookbooks which help millions around the world improve the skills in the kitchen.
Beachcomber BBQ & Grill

Barbecue

319 Arnold Rd.
St. Simons Island, GA 31522
Jack's Cosmic Dogs

Cosmic Dog

2805 Hwy. US-17 N.
Mt. Pleasant, SC 29464
The Dillard House Restaurant

Fried Country Ham

768 Franklin St.
Dillard, GA 30537
Hominy Grill

Chocolate Pudding

207 Rutledge Ave.
Charleston, SC 29403
Relish Restaurant

Fried Black Eyed Peas

590 Mimosa Blvd #100
Roswell, GA 30075
Ted Drewes

Concrete

6726 Chippewa Street
St. Louis, MO 63109
Hankook Taqueria

Bibim-Bop

1341 Collier Rd.
Atlanta, GA 30318
Barney Greengrass

Herring Sandwich

541 Amsterdam Ave.
New York, NY 10024
Creperie Beau Monde

Crepe with Ice Cream

624 South 6th St.
Philadelphia, PA 19147
The Little Owl

Whole Wheat Pancakes

90 Bedford St.
New York, NY
A Single Pebble

Mock Eel

133 Bank St.
Burlington, VT 05401
Bragg Family Farm

Sugar on Snow

1005 VT Route 14 North
East Montpelier, VT
The Old Country Store

Fried Chicken

18801 Highway 61 South
Lorman, MS 39096
Ted Peters

Smoked Mullet Fish Dinner

1350 S. Pasadena Ave.
South Pasadena, FL 33707
Sweet Republic Artisan Ice Cream

Toffee Banofi Sundae

9160 E. Shea Blvd., #105
Scottsdale, AZ 85260
Le Pichet

Raclette Savoyarde

1933 1st Ave.
Seattle, WA 98101
Cafe Jacqueline

Strawberry Souffle

1454 Grant Ave.
San Francisco, CA 94133
Blue Ridge Grill

Fried Pickle Chips

1261 W. Paces Ferry Rd. NW
Atlanta, GA 30327
Lynn's Paradise Cafe

Hot Brown Sandwich

984 Barret Ave.
Louisville, KY 40204
Cafe Beignet

Beignets & Chicory Coffee

334-B Royal St.
New Orleans, LA 70130
The Red Eyed Mule

Jake's Sloppy Slaw Burger

1405 Church St. Extension
Marietta, GA 30060