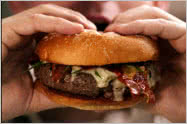 EXPLORE 554 BEST FOODS
ORGANIZED by STATES:


It truly takes the top chef's in the world to build the best tasting foods list so we can all enjoy it!


Adam Gertler's The Best Thing I Ever Ate Compilation of Great Foods!
Explore the Selections & Experience of Professional Chef Adam
Chef ADAM GERTLER

Adam was born in 1978 and is from Commack, New York.

Primarily known for his runner-up finish on the food tv show The Next Food Network Star, Adam is an all-American chef that can really bring the best out of everyday ingredients and makes his recipes approachable for everyone. He also has an acting diploma which helps his skills on his hosting duties on shows such as Kid in a Candy Store and Will Work for Food.
Dinosaur Bar-B-Que

BBQ Chicken

246 W. Willow Street
Syracuse, NY 13202
Father's Office

Office Burger

3229 Helms Avenue
Los Angeles, CA 90034
Little Dom's

Breakfast Pizza

2128 Hillhurst Ave.
Los Angeles, CA 90027
Langer's Deli

Pastrami Sandwich

704 S. Alvarado
Los Angeles, CA 90057
Chefs of New York

Spinach Pizza

508 Larkfield Road
East Northport, NY 11731
Amada Restaurant

Roast Suckling Pig

217-219 Chestnut Street
Philadelphia, PA 19106
Kogi Korean BBQ

Korean Short Rib Tacos

Azul, Verde, Naranja and Roja
Los Angeles, CA 90048
Europane Bakery

Egg Salad Sandwich

950 E Colorado Blvd, Ste. #107
Pasadena, CA 91106
Drago's Seafood Restaurant

Grilled Oysters

3232 N Arnoult Road
Metairie, LA 70002
The Foundry on Melrose

Grilled Cheese w/ Short Ribs

7465 Melrose Ave.
Los Angeles, CA 90046
Doughnut Plant

PB&J Doughnut

379 Grand St.
New York, NY 10002
Jacques Imo's Cafe

Shrimp & Alligator Sausage Cheesecake

8324 Oak Street
New Orleans, LA 70118
Good 2 Go Tacos

Paris Texas Tacos

1146 Peavy Rd.
Dallas, TX 75218
Sarcone's Deli

Junkyard Special

734 South 9th St.
Philadelphia, PA 19147
Yang Chow

Slippery Shrimp

819 N. Broadway
Los Angeles, CA 90012
Kuma's Corner

The Slayer Burger

2900 W. Belmont Ave.
Chicago, IL 60618
Stefan's at L.A. Farm

Lollipop Trio

3000 Olympic Blvd.
Santa Monica, CA 90404
The Franklin Cafe

Corned Beef and Cabbage

278 Shawmut Avenue
Boston, MA 02118
RM Seafood

Catfish Sloppy Joe

3930 Las Vegas Blvd S.
Las Vegas, NV 89119-1010
City Tavern Restaurant

West Indies Pepperpot Soup

138 South 2nd St.
Philadelphia, PA 19106-2897
Society Cafe

Steak and Egg Sliders

3131 Las Vegas Blvd. S.
Las Vegas, NV 89109