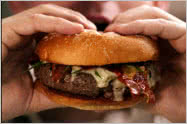 EXPLORE 554 BEST FOODS
ORGANIZED by STATES:


It truly takes the top chef's in the world to build the best tasting foods list so we can all enjoy it!


Aaron Sanchez's The Best Thing I Ever Ate Compilation of Great Foods!
Explore the Selections & Experience of Professional Chef Aaron
Chef AARON SANCHEZ

Mr. Sanchez was born in 1976 and is current executive chef at Centrico.

Most notably known from his judging position on the widely popular Chopped Food Network television show. He has also appeared in many other competitions such as The Next Iron Chef, Chef's vs. City and Heat Seekers. Born in Texas, his Mexican roots got him started in the kitchen at an early age even after he relocated to the city of New York.
Lolita

Fried Brussel Sprouts

900 Literary Rd.
Cleveland, OH 44113
Max Brenner

Chocolate Pizza

841 Broadway
New York, NY 10003
Zarela

Creamy Rice Casserole

953 Second Ave.
New York, NY 10022
Chico's Taco

TACOS

4230 Alameda Ave.
El Paso, TX 77905
Casa Adela

Pernil

66 Avenue C
New York, NY 10009
Tsar Nicoulai Caviar Cafe

Sampler

60 Dorman Ave.
San Francisco, CA 94121
Incanto Restaurant & Bar

Leg of Beast

1550 Church St.
San Francisco, CA 94131
Jean-Georges

Chocolate Tasting Menu

1 Central Park West-Trump Tower
New York, NY 10023
K-Paul's Louisiana Kitchen

Blackened Louisiana Drum

416 Chartres St.
New Orleans, LA 70130
The Cherry Cricket

Cricket Burger with Green Chili

2641 East 2nd Avenue
Denver, CO 80206
Restaurant August

Potato Gnocchi with Blue Crab & Perigold Truffle

301 Tchoupitoulas St.
New Orleans, LA 70130
Daddy D'z BBQ Joynt

Rib Tips

264 Memorial Dr.
Atlanta, GA 30312
Versailles

Guava Pastries

3555 SW 8th St.
Miami, FL 33135
The Olde Pink House

BLT Salad with Fried Green Tomatoes

23 Abercorn Street
Savannah, GA 31401
Kiki's Mexican Restaurant

Beef Machaca

2719 N. Piedras
El Paso, TX 79930
Cake Flour

Flourless Chocolate Cake

909 E. Market St., Suite 100
Louisville, KY 40206
Garcia's Cafe

Menudo

211 Highway 133
Carbondale, CO 81623
George's Bar

Fish Tacos

1250 Prospect St.
La Jolla, CA 92037
Suenos

Chile Mecco Relleno

311 W. 17th St.
New York, NY 10011
Craft

Roasted Quail

43 E. 19th St.
New York, NY 10003